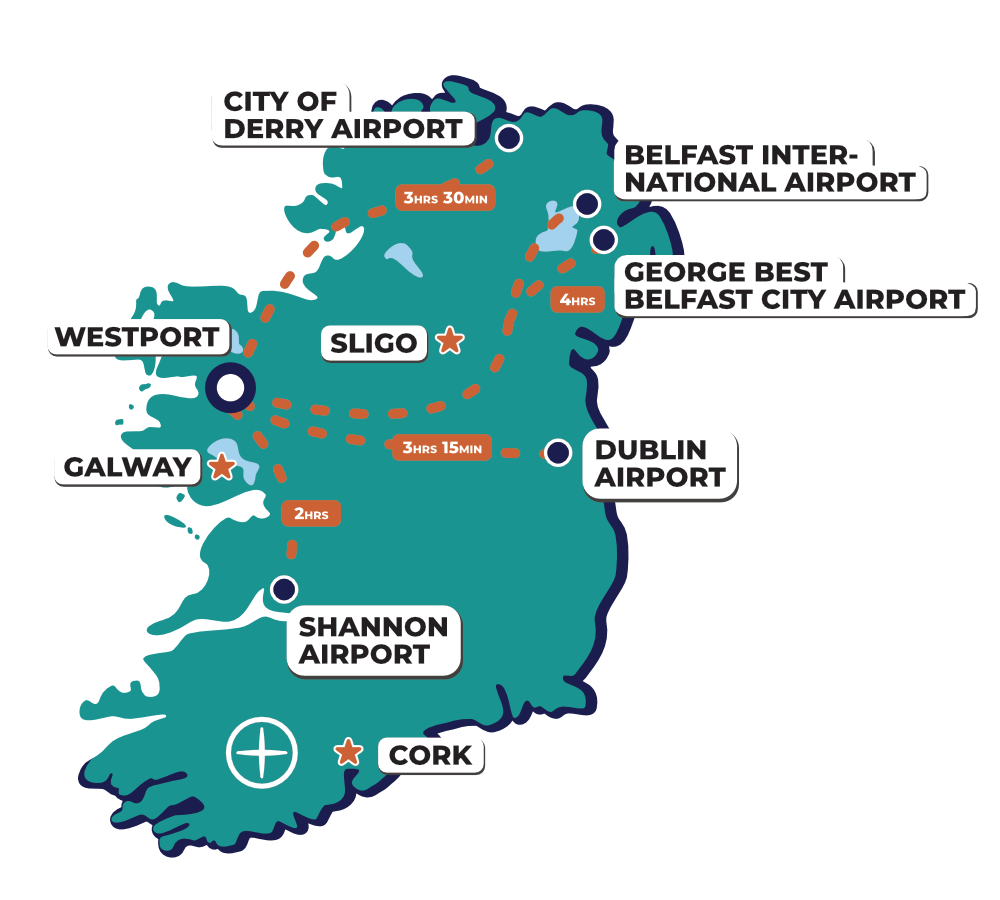 Westport is a quaint heritage seaside town in Co. Mayo on the west coast of Ireland. It is a charming picturesque town. It draws visitors from all over the world with its' blend of old and new, reminders of a bygone era mingling with bustling city vibe. Only 1hour and 30 minutes from both Sligo and Galway and Dublin airport just 3 hours east, it is an ideal destination to explore Ireland's mesmerising coastline and enjoy the welcome and craic that locals and holiday makers combine to bring.
Hike Ireland's holiest mountain Croagh Patrick, a tradition of pilgrimage that St Patrick fasted on the summit for 40 days and nights. Also experience magnificent views of Clew bay which has 365 islands (one for every day of the year) The ancient history and folklore add to the islands sculpted by the Wild Atlantic Way forming snake and dragon like shaped islands. Liverpool's most famous son, John Lennon bought one. Here outdoor adventure is in abundance with cycling, walking, climbing, surfing, paddle-boarding, kayaking, snorkeling, coasteering and golfing.
Buy unique locally produced goods such as knitwear and pottery or browse through the rails of contemporary fashion boutiques, book stores and music outlets as well as craft and food markets.
The nightlife is where Westport is some of the liveliest on the Wild Atlantic Way from centuries old to traditional Irish pubs. Some local pubs are famous for traditional Irish music every night of the week.
Wesport offers tourism and hospitality a plenty and if you want to experience true Irish culture with an International twist, here is ideal town to carry out your Erasmus journey!