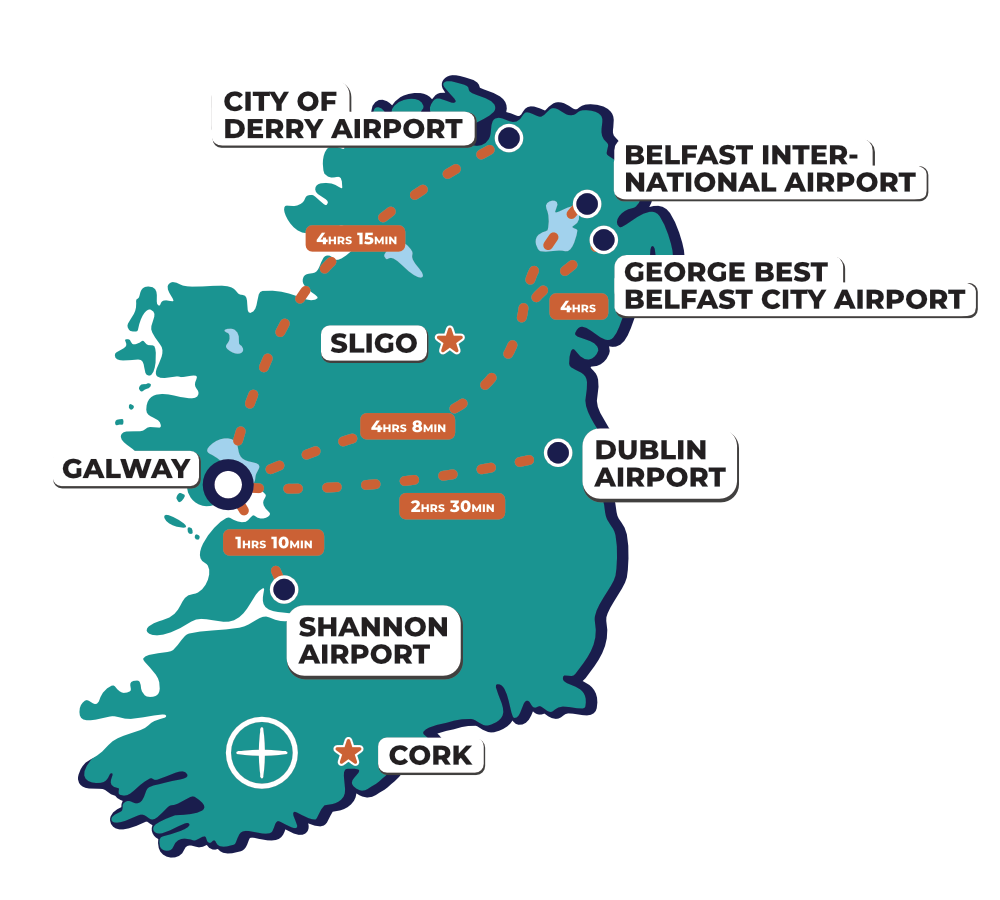 Galway is a thriving, bohemian cultural city situated on the West Coast of Ireland. It is a unique destination for students and international visitors alike. Known for its' barren fields, rugged coastline, stone-walled fields, stark mountain ranges, and vast boglands, the west has some of the richest scenic beauty and natural attractions in Ireland. From sunsets over Galway bay to island hopping or nature watching the rock shores of the Aran islands.
If nature and water is your preference, there are endless activities to fulfil your adrenaline appetite. Feel the warmth and glow of the summer sun by kayaking in caves on Galway's coast. Explore other water sports such as swimming, surfing, coasteering, kitesurfing and stand up paddle boarding on Gurteen Beach or Dog's Bay. If it's dry land, then hike, walk and amble the Connemara national park.
The chief exports are wool, agricultural produce, marble, china, and various metals. Leading manufactures include ironwork, computers, electric motors, medical instruments, sports equipment as well as tourism. Festivals include the Galway races, international oyster seafood festival and a magnitude of Arts, crafts and food festivals.
Galway is home to a vibrant nightlife scene. The city has numerous pubs and bars as well as a few nightclubs along with some of the finest theatres and comedy clubs in the country. The possibilities are endless, from a quiet night out with friends with traditional Irish music or a night out dancing to the early hours, with so many things to do in Galway, you will not be disappointed.
Galway offers an international environment built on an old Irish culture and traditions.
Carry out your Erasmus experience in a modern manufacture and technical environment with all the Irish customs and hospitality!